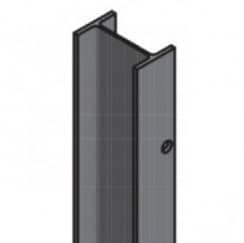 What are RSJ posts?
Rolled Steel Joist (RSJ) posts are a type of crash barrier post made from galvanised steel. These posts are one of the most important parts of any Armco barrier system. They support the barrier beam, ensuring the crash barrier stands strong against any colliding vehicles and helping to provide essential protection for pedestrians and surrounding buildings and objects.
RSJ posts are also known as 'H' posts or 'I' posts, due to their distinctly shaped cross-sections. Their unique design makes them incredibly sturdy and they can withstand significant impact – making them ideal for supporting Armco barriers in high-risk areas.
RSJ posts are so robust, in fact, that the construction industry often uses the same design for new building developments. A true testament to their strength and durability!
Learn more in our Complete Guide to Armco Barrier Posts.
Differences between Armco Z posts and RSJ posts
Armco barriers are supported by one of two types of posts: RSJ posts or Z posts. Both types are usually made from galvanised steel, but they have different designs and offer different benefits.
Z posts are more lightweight and their wavy-shaped design will crumple on impact and absorb the shock of a crashing vehicle. They're a good choice if you have a small budget and want to place an Armco barrier in a lower-risk area.
RSJ posts, however, are much more durable. Their H shape is sturdy and strong, so any vehicles colliding with this type of post will be brought to an immediate stop.
This means they offer the best protection for high-risk areas, where large vehicles or lorries could potentially cause devastating injury or damage.
Read more about Z posts in our Guide to Armco Z Posts.
Where to use RSJ posts
Armco barriers constructed with RSJ posts are specifically built to withstand heavier impacts and prevent the potential injury or significant damage that out-of-control vehicles or collisions could cause.
They should be used to support Armco barriers in high-risk situations, where maximum strength and durability are needed.
This may include:
Factories
Warehouses
Loading bays
Car parks
Construction sites
Service yards
Industrial facilities
Is an RSJ post the same as an RSJ beam?
Both RSJ posts and RSJ beams have the same 'H' or 'I' design, and both are often made from galvanised steel. They are, however, used for different purposes.
RSJ posts have a specific task: to provide sturdy support for crash barrier systems. They underpin the Armco barrier to ensure it can carry out its function of protecting people and property from collisions and crashes.
RSJ beams, however, are more commonly used in building construction, to provide load-bearing support for building frameworks. You'll often also see them used in extensions or above new windows or door spaces, as their durable strength helps support the structural integrity of existing walls and ceilings.
How do you install an RSJ post?
There are two traditional ways of installing an Armco barrier post, depending on the type of surface you're installing your barrier on. These are:
Cast In (or Dig In) posts. Armco posts are fitted in a soft surface (ideally wet cement).
Bolt Down posts. With this method, Armco posts are simply bolted into a concrete or impenetrable surface.
At CT Safety Barriers we highly recommend using the Cast In method to install RSJ posts as the hard cement will provide maximum support for your Armco barrier system. However, we can manufacture, supply and install Armco RSJ posts for both hard concrete and more penetrable surface types.
Get in touch today to discuss your needs and receive a free installation quote.
RSJ Posts FAQs
These are some of the most frequently asked questions we receive about Armco RSJ posts. Please get in touch if you have any further questions by giving us a call on 01977 666 818.
What are RSJ posts made from?
Our Armco RSJ posts are made from the highest quality galvanised steel – certified to BS EN ISO 1461 standards.
This durable metal is extremely low maintenance and highly weather-resistant, making it the perfect material for an outdoor crash barrier.
We also offer the option of having your Armco posts and beams powder-coated in a bright colour to aid visibility.
What size RSJ post do I need?
The size of your RSJ posts will depend on many factors, including the required height and chosen length of your Armco barrier system.
You can use our Online Calculator to work out how many RSJ posts you'll need for your space. Alternatively, give us a call on 01977 666 818 and we'll provide you with an accurate quote.
Enquire today about using RSJ posts in your Armco barrier system