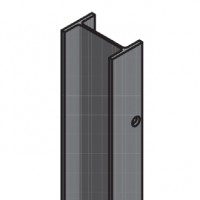 Cast In RSJ Posts – 1200, 1500, 1800mm & 127X76mm
About The RSJ 1200, 1500, 1800mm Cast In Posts
A popular choice from our Armco Products collection, the RSJ (Rolled Steel Joist) post is an excellent choice when looking for protection posts. An incredibly versatile product, the RSJ cast in post can be installed almost anywhere, simply by digging a hole of the appropriate size and depth.
This simple installation method makes it a great choice when needing a quick installation of protection posts. When looking for an ideal protection post for inside a warehouse, factory or workplace, you can't go wrong with our galvanised steel RSJ posts, a great choice to support any Armco barrier.
If you'd like to discuss installation and a quote for your RSJ posts, you can call our team today and we'll be more than happy to help. Alternatively, you can make use of our Armco Calculator to generate your request to be submitted to us.
Part number(s): AR017, AR018 & AR019
Material Calculator:
Divide total length of system required by 1.6m or 3.2m
1 X AR050 Post Bolt per post hole to bolt Beam to Post, quantity will double for double height and double sided
Specification:
Dim 'A' 1200, 1500 & 1800mm
Weight 16.38kg
Weight 20.48kg
Weight 24.57kg