Free Standing Roof Edge Protection Regulations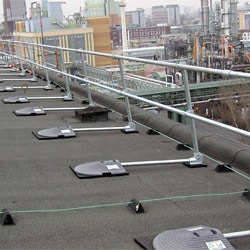 Roof edge protection barriers are essential in order to comply with the HSE recommendations in reducing risk for those working at height.
Roof handrail protection is a counterbalanced safety handrails system designed for working safely at high heights. Our system is a free-standing handrail which avoids penetrating the roofs membrane using rubber counterweights, which contact the roof in intervals, maximising friction whilst avoiding damage to the surface of the roof.
Our free-standing Roof Edge Protection handrail has been designed in accordance with BS EN 13374:5004, roof edge protection regulations, as a class A protection system. Therefore, you can be assured of the strength, quality and safety of our product when working at height. Not all free-standing roof edge protection barriers provide the level of security for rooftop areas that we can guarantee.
Free-Standing Roof Edge Protection Benefits
Provides protection for working on a roof.
No penetration of the roof membrane.
No welding, threading or bolting required on site.
Suitable for use on concrete, PVC membrane, asphalt and felt roof surfaces.
Modular and easy to assemble, limiting installation costs.
Free-standing, therefore, requires no permanent fixing.
Industry compliant, tested against BS EN 13374:5004 class A.
Flexible Solution can be configured around most obstacles or elevation changes.
The roof protection handrails can be added or taken down for reconstruction elsewhere at a moments notice.
Compatible with almost all configurations of flat roofs.
Surpasses need to penetrate the roof membrane.
Unbeatable roof handrail systems for fall protection.
Edge Protection Barriers Installation
Free Standing Roof Edge Protection is perfect in situations where regular roof access is required for maintenance or inspection purposes.
For example, any building with a flat roof should have a roof inspection at least once a year. This is since flat roofs are prone to issues such as drainage, or lack thereof. Having Roof Edge Protection that does not penetrate the membrane of the building means it will not add to any potential structural damage and will create a safe environment for the inspection to take place.
FAQ'S for Free-Standing Roof Edge Protection
Is free standing handrail protection required by law?
Yes. Building Regulations Part K require that a counterweighted safety handrail be installed wherever there is a risk of falling more than 2 metres.
What is the recommended height for roof edge protection rails?
To comply with building regulations, roof edge protection must have a minimum height of 1100 mm and consist of at least two rails.
What are the benefits of having a counterweight handrail?
Our free-standing roof edge protection rails provide safety for people working on a roof and can be installed on a number of surface types. The system does not require welding or bolting in place, thereby minimising roof damage, and the modular assembly limits costs and can be dismantled without difficulty.
Do you manufacture your own free-standing roof edge protection?
Yes. CT Safety Barriers is one of the UK's leading manufacturers and suppliers of handrails and roof edge protection. Our purpose-built manufacturing facility in Yorkshire supplies products all across the UK and Europe.
How do I install a handrail?
You should not attempt to install your own roof edge protection rail. To best comply with safety regulations, you should consult an expert fitter. CT Safety Barriers offer a team of fully trained installation engineers who are experienced in installing roof edge protection rails of all types and sizes. Get in touch today to discuss your needs and get a quote.
Are your roof edge protection barriers sold secure?
Yes, all our handrails and roof edge protection barriers are sold secure.
Do your handrails abide by Roof Edge Protection Regulations?
Yes, our free-standing roof barriers are compliant with the rules set out in BS: EN 13374:5004 Class A.
Roof Barriers Safety Standards
Our Roof Edge Protection is compliant with the rules set out in BS: EN 13374:5004 A Class. This covers the application process and surfaces it may be applied to, the design features, components used, performance testing and safe proximity from the roofs edge. For more information click here. 
Order your Roofing Edge Protection Today!
Here at CT Safety Barriers, we strive for the best possible performance and quality in all Free-Standing Roofing Edge Protection we produce in our UK based, purpose built, manufacturing facility. We are an ISO 9001 and OHSAS 18001 certified company that understands in safety, there is no room for error.
For further information on our Free-Standing Roof Edge Protection call us now on 01977 666 818 or complete an online enquiry form.