What are Key Clamp Handrails?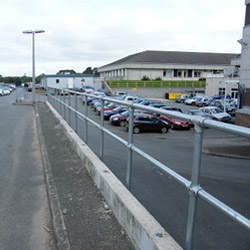 Protect you and your machinery from damage with easy to assemble key clamp handrails. We are the number 1 supplier of key clamp barriers in Yorkshire, with safety handrails that are easy to put together and can be re-used when needed.
Not only do we sell key clamp handrails, but our fully engineers carry out installation through the UK and will set up your key clamp system for you.
Our Clamp Fitting Steel Handrails are formed from a versatile range of malleable iron galvanised slip-on pipe/tube fittings, made to BS EN 1562: 1997. Key clamp systems are extremely quick and easy to fit, requiring only the use of a simple hexagon key to secure them in place. They do not require welding in any form so you don't need any highly skilled personnel or equipment to construct them.
Key clamp fencing is perfect as pedestrian safety barriers, to protect machinery or for your place of work. We have an extensive range available that can be delivered to you.
Benefits of a Key Clamp Barrier
No Welding or Equipment – Key clamp handrails are constructed with only the use of a hexagon key, this means that not only do you not need a hot work permit, but you can have them constructed by a 'low skill' work force in very little time.
Quick Installation – Due to the nature of key clamp barriers, they require very little time to install and therefore are an also an extremely cost-effective solution.
A Flexible System – Threaded tubes are required to be produced in a set length; key clamp handrails the slip-on fittings allow a versatility which means they can accommodate multiple on-site variations.
Key Clamp Installation Scenarios
Clamp Fitting Steel Handrails are perfect for areas which require a basic structure in order to provide protection.
Key clamp handrail designs can be used in a wide variety of situations, typical clamp applications are; steel handrail, safety guardrails, fencing, playground equipment, racking, sports practice nets, greenhouses, exhibition stands, roof top fall prevention, pedestrian barriers and wheelchair access ramps. The possibilities are endless thanks to their versatile yet simple design.
FAQ'S For Key Clamp Handrails
What are the benefits of having a key clamp handrail?
Key clamp handrail systems are both durable and versatile. The hexagonal key means that the handrails don't need welding into place, making them quick and easy to install. It also offers flexibility for handrail systems that can be adapted to a changing location.
Do you install the clamp fitting handrails?
Yes. Our team of experienced engineers are fully trained to carry out handrail installations. Call us to discuss your needs and receive a quote today.
Are your key clamp systems sold secure?
Yes, all of our handrails are sold secure.
What materials are key clamp handrails typically made of?
CT Safety Barriers manufactures key clamp handrail designs in galvanised steel, for a durable system that's easy to maintain.
Can I change the colour of my handrails?
Yes, our key clamp fencing can be powder coated to any RAL colour for a bright and distinctive finish.
How do I measure for a key clamp handrail?
Please get in touch with our expert team who will be able to assist you in planning your key clamp handrail system and will offer assistance in measuring the correct space.
Get Your Key Clamp Handrails Today
Here at CT Safety Barriers, we strive for the best possible performance and quality in all key clamp handrails we produce in our UK based, purpose-built, manufacturing facility. We are an ISO 9001 and OHSAS 18001 certified company that understands in safety, there is no room for error.
For further information on our key clamp barriers, call us now on 01977 666 818 or complete an online enquiry form.