Hoop Barriers Order Online Today
CT Safety Barriers Ltd manufactures and has a range of steel hoop barriers for sale online. Our hoop barriers, column, and lamp post protectors come in both mild and stainless steel, and can be manufactured in various diameters, lengths and heights available in a variety of finishes such as galvanised or powder coated. 
Our steel perimeter barriers are manufactured to be either bolted to the ground or root fixed depending on your needs. Unlike other sellers, we manufacture all our safety products, and our manufacturing facility can create your hoop barriers to your specifications.
What are Hoop Barriers?
Hoop barriers have become a popular security measure for various settings, from industrial businesses to commercial car parks. They are useful as you can allow pedestrian access whilst still blocking vehicles. This is the perfect solution if you need to control traffic or protect an area from collisions.
Why choose CT Safety Barriers for your Hooped Barriers?
We manufacture all our hoop barriers ourselves which means we can make them to your specifications with no middle man involved.
Our hoop barriers are made from strong steel. 
We have various finishes available, including galvanised or powder coated.
Our hooped barriers are suitable for commercial, industrial and residential properties. 
We will make your hoop barrier to any size of length you need. 
We can install your hoop barrier systems ourselves.
Perimeter Protection Hoop Barriers
Perimeter protection steel hoop barriers have become a popular method of securing around large areas like car dealerships and play areas. A simple yet effective solution to delineate and protect spaces such vehicle forecourts. 
Perimeter protection hooped barriers are a brilliant way to allow pedestrian access whilst denying any kind of vehicle entry. Our Premier protection steel hoops barriers are available both root fixed or bolt down as well as removable depending on your requirements.
Full Height Protection Hoop Barrier Fencing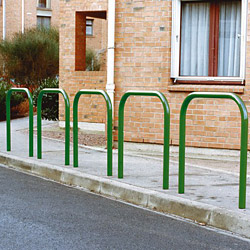 Full Height Protection hoop fencing is mainly used in industrial and urban areas for pedestrian segregation and as trolley parking bays in shopping centres. These hoop barriers are also widely used in supermarkets and other retail premises as they provide easy installation but are reliable and effective.
Static Protection Lamp Post Protectors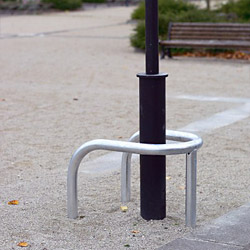 Protective Hoop barriers are used to protect objects from damage such as lamp posts, trolley parks, trees and also for cycle security. As they are static these are usually permanent fixtures and generally protect a certain area rather than guiding traffic. A perfect choice when looking for lamp post protectors.
Cycle Hoop Barriers
Cycle Hoop barriers provide an effective method of bicycle securement within the urban environment. Our bike hoops are made from tough stainless steel and can be root fixed or bolted down depending on if you need to be able to move the hoop barriers or not. Usually we would recommend fixing them to the floor using bolts or concrete in order to maximise the hoop barrier security, but our expert hoop barrier installers can provide advice for you on this.
For further information on the range of Steel Hoop Barriers available from CT Safety Barriers Ltd, call us now on (01977) 666 818 or complete an online enquiry form today.