CT Safety Barriers Ltd has a wide range of security bollards for sale in polymer, mild steel and stainless steel. Whether you're looking for an anti car theft bollard or you need essential protection for car parks, paths and even private driveways. They offer you extra security and monitored accessibility.  
With either static or retractable safety bollards available, you can add chain attachments to manage the flow and direction of traffic. Alternatively, our highly visible stainless steel security bollards have a sleek design that compliments the exterior of your premises. Whatever your requirement, we'll tailor the design of your security bollard posts to your needs.
Take a look at some of our options below to find out what's best for you:
Types Of Security Bollards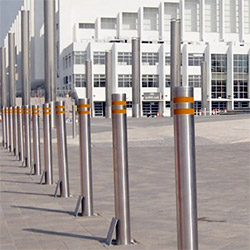 Our range of telescopic security posts are a proven deterrent against vehicle theft and ram attack. Used by many major motor dealer groups for forecourt protection, retractable safety bollards are an ideal method as an anti-theft bollard.
From commercial roller shutter protection to accessing a driveway, with the latest push button lock technology integrated with simple engineering, our retractable bollards provide a cost-effective yet easy to use solution for your requirements. We also offer a variety of finishes including galvanised and powder coated, polymer and stainless steel, and in varying dimensions. All our telescopic security posts are Sold Secure approved, so you know they are good quality!
Browse Telescopic Bollards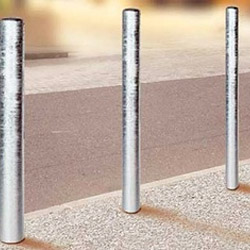 These can be used in both Industrial and commercial environments to protect pedestrians, control your perimeter and prevent damage to your buildings. They can be bolted down or cast into the ground, whichever your preference.
All of our static steel bollards are made to your specification and come in various sizes and thickness depending on your specific requirements. They can be galvanised, powder coated to any RAL colour or both. All our metal security posts can also be adapted to carry chain hooks if needed to help direct the flow of traffic/pedestrians.
Browse Static Steel Bollards
These safety bollards are becoming increasingly popular as street furniture becomes more and more modern in its appearance. The prestige and high-quality appearance that stainless steel bollards offer mean they can be used in a variety of environments including industrial areas and city centres.
They are also exceptionally strong yet easy to maintain and often just require a clean with warm water to keep them looking pristine.
We manufacture a range of high-quality stainless steel bollards that come in a variety of sizes and lengths, the most common being 90/101/114/129/154/204 but other options are available.
Top profiles are either flat, semi-dome or mitre, with milled grooves and hazard bands possible in many sizes. You can also pick your finish with plenty of options to choose from, including a brushed satin finish in either grade 304 or 316, or a mirror polish if desired. Bolt down or removable steel bollards are also an option depending on your needs and they can be strengthened with a mild steel primed insert for anti-ram.
Browse Stainless Steel Bollards
Carbinox Anti-Ram Bollards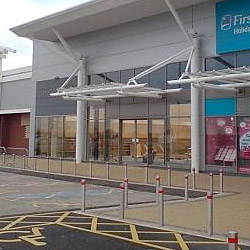 The next evolution of today's market looking for high-quality finish, strength and value. With this material, we have developed the Strata range. In this instance, the process has been developed to allow .5mm of stainless steel to be overlaid onto a 4.5mm mild steel core to create a single material we can manufacture anti-ram bollards from. Available in flat, mitre or semi-dome format, diameters for the bollards come in 90/102/114/130 and 168 variants.
Bollard FAQs
How do bollards work?
Bollards are small metal pillars that can protect people and property from vehicle collisions. Made from extremely durable steel, bollards can effectively block access to vehicles in restricted areas and provide protection for pedestrians.
How far apart should bollards be?
The UK government suggests that all bollard lines should be spaced at a maximum distance of 1.2 metres between individual bollards. It's important to consider the flow of pedestrian movement when choosing bollard placement. You should also ensure bollard spacing allows for wheelchair access.
What are the benefits of using bollards?
Bollards of all types are a fantastic way of protecting people, vehicles and buildings from collisions and ram attacks. Retractable bollards can offer extra security from car theft and you can even add chains to your bollards to assist in directing foot traffic – helping to prevent injuries and damage to property.
What are the different types of bollards?
There are three main types of bollards: telescopic bollards (also known as retractable bollards), static steel bollards, and stainless steel bollards. CT Safety Barriers also manufactures Carbinox bollards that are strengthened with a mild steel insert that minimises damage from ram attacks.
Do you manufacture your own bollards?
Yes. CT Safety Barriers is one of the leading manufacturers and suppliers of telescopic, static steel and stainless steel bollards in the UK. Our manufacturing facility is based on the motorway network in Yorkshire and we supply our products all over the UK and Europe.
Do you install the bollards?
Yes. Our team of engineers are fully trained to carry out installation works, and have years of experience installing bollards of all kinds across the UK. Talk to us today about your bollard installation process.
What finish should I choose for bollards?
You should choose a stainless steel finish if you are placing the bollards near the coast, as the material is resistant to salt air and won't corrode. However, if your site is further than 7 miles from the coast, we offer a variety of finishes for you to choose from. Galvanised steel offers a low maintenance solution, but you could also choose a powder coated finish in a variety of colours.
For further information on the range of static and retractable Bollards available from CT Safety Barriers Ltd, call us now on (01977) 666 818 or complete an online enquiry form today.