Introduction To DDA Handrails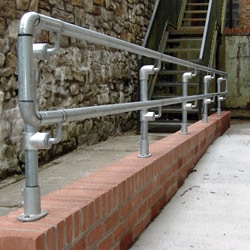 The ideal solution when looking for a handrails for ramps, stairs and walkways, DDA railings are a system of horizontal rails supported by vertical uprights. These safety handrails provide a continuous gripping surface without any breaks and are assembled using fittings and clamps.
Our DDA range has been designed in order to comply with the Disability and Discrimination Act (DDA), as well as, the Building Regulations Part M: 2004. You can buy our DDA handrails online and our trained technicians will install your new handrail system for you. 
Our DDA handrails are quick to install and are constructed from galvanised fittings and tubes. These systems mean they are also easy to modify at a moments notice.
The DDA fittings are designed to be fully integrated with both new handrail systems, and in the refurbishment or upgrading of existing tubular structures. This helps them meet the newer access specifications required for disabled ramps with handrails.
Contact us today if you require disabled handrails for outside ramp
DDA Compliant Handrail Requirements
DDA handrails should be implemented to provide a safe means of access for everybody, particularly those who may find it difficult to negotiate a change of level. Here are the reasons that allow us to produce DDA compliant handrails for ramps.
Continuous and Smooth – Ensure that the surface of the DDA railing is smooth throughout its entire length, it should be easy to run your hand along the whole railing.
Height and Clearance – Your railing must be between 900 mm and 1100 mm in height. If DDA railings for ramps are implemented, it must have a clear minimum width of 1000 mm. Further precaution can be taken for those short in stature, by implementing a second handrail at 600 mm.-
Edge Protection – In scenarios in which there is a 'drop off', DDA handrail ramps require a form of curb or rail in order to prevent wheelchairs for slipping underneath them. In some situations, a mild rail is sufficient.
DDA Handrail Installation Scenarios
DDA handrails with clamp fitting steel are perfect for areas which require ease of access to a wide range of people with varying physical ability. Our DDA handrail system does not require any welding or threading thanks to clamps, meaning these ramp railings can be assembled without specialised equipment.
An example of use would be implementing DDA Compliant Handrails on external stairways leading to a commercial building (as recommended in Part M of the Building Regulations). There are over 11 million people with a limiting illness, and they account for 20% of the customer base for UK business. Therefore, making a commercial building safe and accessible for people of all physical abilities is a necessity for business owners.
Another scenario would be access to external stairways leading to a public building. All new buildings must be DDA compliant in terms of access. Existing buildings are regularly inspected to ensure steps are being taken to meet the DDA requirements.
FAQ'S For DDA Ramp Handrails
Are DDA handrails required by law in certain areas?
Yes. The DDA (Disability Discrimination Act) and Building Regulations Part M: 2004 require DDA-compliant handrails to be installed in specific locations. This includes installing handrails on all new buildings, along with DDA-compliant rails for external stairways that offer access to commercial or public buildings.
What are the benefits of having a DDA handrail?
DDA handrails provide safer access to people who may find it difficult to maneuver a change of surface level. Our DDA range is specially designed to comply with the Disability Discrimination Act (DDA) and the Building Regulations Part M: 2004 and can be integrated with new or existing systems to meet the current access requirements. The handrails do not require any welding so they're quick to install, and the flexible fittings means they're easy to modify on site.
What safety regulations should I consider when installing a handrail?
There are a few things to keep in mind when planning your DDA handrail system. First, the handrail must meet the required height regulations. It must also include edge protection for wheelchairs and the rail surface should be smooth across the whole length.
What is the recommended height for a DDA handrail?
Your handrail must be between 900 mm and 1100 mm in height to be considered DDA-compliant. You may also consider installing a second, lower handrail at a height of 600mm as a precaution.
What materials are DDA handrails typically made of?
Our DDA handrails are made from durable galvanised steel.
Do you install the DDA-compliant handrails?
Yes. Our expert engineers are fully trained to carry out installation work through the whole of the UK and can install your handrail system quickly and easily.
Are you DDA-compliant handrails sold secure?
Yes all of our handrails are sold secure.
Which type of fitting should I use on my handrails?
Our DDA-compliant handrails are available with both internal expanding and saddle type fittings.
Types of Clamp Fittings
The DDA Compliant Handrails can be fitted with either an internal expanding clamp fitting or a saddle type fitting. Both are designed in order to achieve the singular smooth texture throughout the entirety of the rail and therefore are DDA Compliant.
Get Your DDA Handrail Today
Here at CT Safety Barriers, we strive for the best possible performance and quality in all DDA Complaint Handrails we produce in our UK based, purpose-built, manufacturing facility. We are an ISO 9001 and OHSAS 18001 certified company that understands in safety, there is no room for error.
For further information on our DDA Compliant Handrails, call us now on 01977 666 818 or complete an online enquiry form.