We manufacture, supply and install safety handrails 
CT Safety Barriers are experts in all things safety railings. Not only are we one of the few manufacturers of safety railings in the UK but we also offer a full handrails installation service too. We supply a wide range of cost-effective metal safety handrail systems. These include our malleable key clamp handrails for easy installation and our DDA compliant railings, ideal for external ramps. We also manufacture edge protection systems, ball type standards and fully welded handrail systems in mild steel and stainless steel.
Clamp Fitting Steel Handrail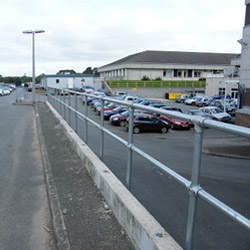 CT Safety Barriers Ltd provide a versatile range of malleable iron galvanised slip-on pipe/tube fittings, made to BS EN 1562:1997. These fittings are quick and easy to use with the use of a simple hexagon key. Typical clamp applications are steel handrail, safety guardrails, fencing, playground equipment, racking, sports practice nets, greenhouses, exhibition stands, roof top fall prevention, pedestrian barriers and wheelchair access ramps. The Clamp system can also be Powder Coated to any RAL colour you require.
DDA Compliant Clamp Fitting Steel Handrail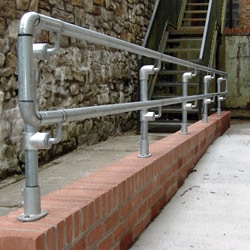 The DDA range has been specially designed to help comply with the Disability Discrimination Act (DDA) and the Building Regulations Part M: 2004. Both Internal expanding and saddle type fittings are available. The DDA fittings are designed to be fully integrated with both new handrail systems and the refurbishment or upgrading of existing tubular structures to help meet the newer access specifications required of pedestrian barriers.
Free Standing Roof Edge Protection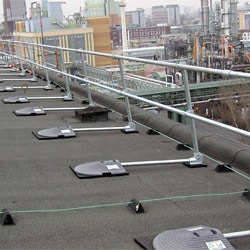 Roof Edge Protection is a counterbalanced handrail system designed for safe working at height, and has been designed in accordance with BS EN 13374:5004 as a class A protection system. This free standing handrail can be assembled to provide a guarded walkway across a roof as well as a roof edge guard. The Protection has Rubber membranes on all surfaces in contact with the roof to maximise friction without damaging the roof surface.
Ball Type Handrail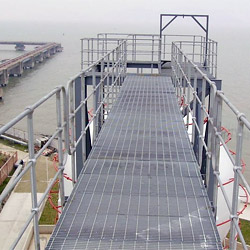 The Tube & Ball Handrail is suitable for installations in almost every type of application from stairways, walkways and platforms. They are a high-performance safety railing solution and protection in different environments particularly in circumstances where there is moving equipment or machinery present. Tube and Ball Handrails are suitable for installations in almost all scenarios from stairways, to walkways and platforms.
FAQs about Handrails
What are the benefits of having safety railings?
CT Safety Barriers provide handrail systems that are durable yet easy to modify. We use a hexagonal key connector that makes our handrails quick and easy to install on site.
Are handrails required by law in certain areas?
Yes. Some locations must provide compliant handrails as part of the DDA (Disability Discrimination Act) and Building Regulations Part M: 2004. There are specific rules regarding the height and design of these handrails, so contact us today to speak to an expert and discuss your requirements.
Do you install the safety railings?
Yes. We have a team of full trained engineers that are highly experienced in installing handrail systems of all kinds. We can install handrails anywhere in the UK.
Are your key clamp handrails sold secure?
Yes, all of our handrails are sold secure.
What materials are your handrails typically made of?
All our handrails are crafted in galvanised steel, for a durable handrail that will stand the test of time.
Can I change the colour of my handrails?
Yes, our handrails can be powder coated to any RAL colour to help improve the visibility or aesthetic of your handrail system.
How do I measure for a new handrail system?
If you require a new handrail system, please contact our team by email or phone to receive a quote and discuss your handrail needs. We provide professional planning and installation of your handrail system, and will guide you every step of the way.
Browse Tubular HandrailsFor further information on the range of Safety Handrail systems available from UK manufacturer and supplier, CT Safety Barriers Ltd, call us now on (01977) 666 818 or complete an online enquiry form today.