CT Safety Barriers Ltd manufacture a wide range of warehouse protection systems for both internal and external use. The protection systems are used to protect the structure of the building, equipment and personnel working on site. We can manufacture standard warehouse protection products like warehouse barriers, Armco barriers, and rack column protection.
What Type of Warehouse Barriers Do Your Offer?
Rail protectors – The main purpose of rail protectors in a warehouse/business area is to keep things out (or in). These are the perfect solution in order to guard expensive machinery and to protect workers from areas a forklift may be moving through.
Rack protector – Rack protection comes with a lot of advantages. Machinery used to handle pallets in a warehouse is very heavy, but rack protection means your equipment and products are kept safe should an accident occur.
Bespoke Barriers – As CT Safety manufacture all of our product, we can create a completely bespoke barrier system for your specific needs.
Posts – We have a wide range of warehouse posts available that can suit a number of purposes. From keeping people away from a certain area to guiding moving vehicles in a warehouse. Find out more on our bollards page.
Guardrails – Warehouse guardrails are essential to keeping you and your staff safe. From providing a barrier for high areas to keeping people away from restricted areas.
Column Protection – Our column protection can be built bespoke and protects your building from crashes and accidents in the workplace.
Below is an overview of products we have manufactured, however if the product you require is not shown please contact us as our in-house design and fabrication teams can manufacture to your requirements.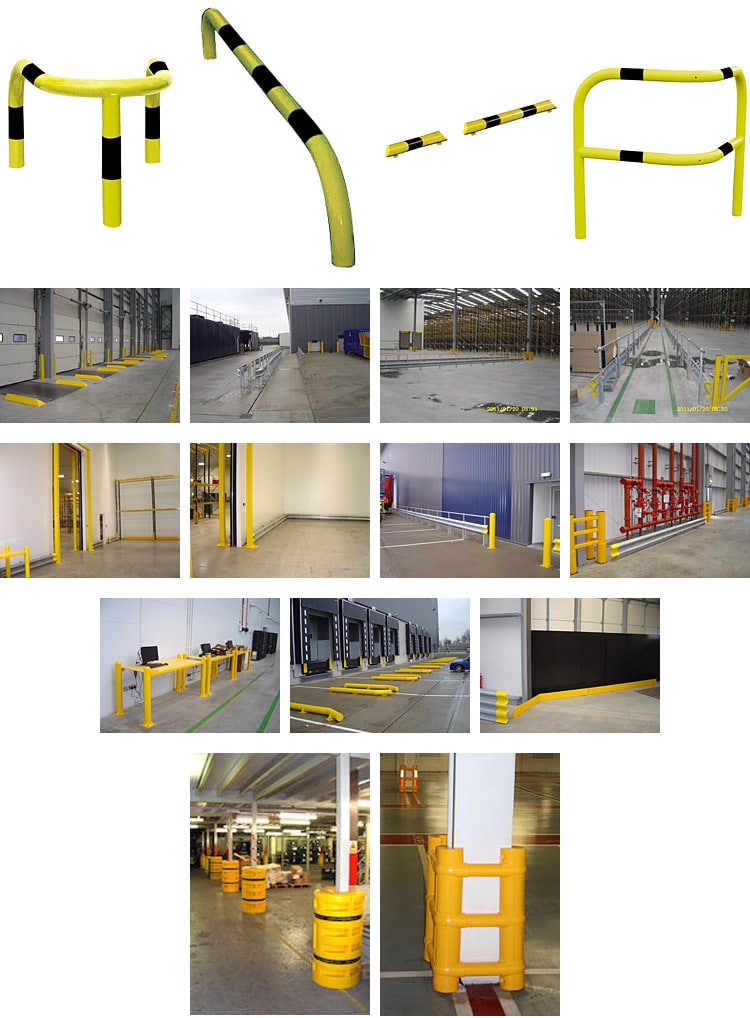 Tailor Made Warehouse Barrier Protection
Unlike other warehouse protection suppliers, we also have the ability to manufacture bespoke products to your own design in our fabrication facility. We can create barriers, industrial railing, and wall protection completely bespoke for your business.
Benefits of Our Warehouse Barriers
• High Quality safety products protect both your assets and workforce.
• Competitive prices available.
• Premium Aesthetic.
• Variety of finishes.
• Sold Secure Approved.
• Heavy Duty Options Available.
• Suitable for a wide range of environments.
• Options for both bolt down and removable fixture warehouse barriers available.
Get In Touch
Warehouse Protection FAQs
What industries do you specialize in? – We do not limit ourselves to any specific industry. CT Barriers can create warehouse barrier protection for any type of business that requires them, big and small.
Why do you need warehouse barriers? – Warehouse barriers help achieve a risk-free workplace. Properly installed barriers and protectors can minimise the potential of accidents in the work place.
Which type of warehouse barriers do I need? – This depends on a case-by-case basis. If you have areas that involve moving machinery then rail protectors to keep staff back may be needed, or maybe you need to safeguard your equipment. Give us a ring for expert advice on safety barriers.
For further information on the range of Warehouse Protection Systems available from CT Safety Barriers Ltd, call us now on (01977) 666 818 or complete an online enquiry form today.