Tubular Handrail Systems With Quick Assembly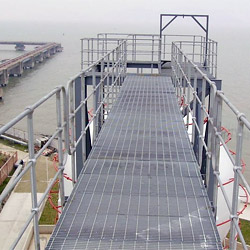 Order your own tubular handrail system online and we will come and install it for you. We are one of the leading manufacturers and suppliers of safety handrails in the UK and our tubular handrail systems are designed for efficiency. Traditionally steel tube structures are inherently difficult to construct. Threaded steel tubes must be provided in set lengths making any flexibility in the build extremely difficult. They are also welded and therefore require a highly skilled team and specialist equipment to construct.
Instead, our tubular handrails are constructed using a 'slip-on' fitting, meaning there is no need for heavy equipment or labour-intensive work. Simply erect and dismantle by removing the screw which holds the post inside the fitting.
Benefits of Tubular Handrail Systems
•            No welding, no hot work permit required
•            No threading or bolting
•            Flexible can accommodate differing environments
•            Cost-effective and quick installation
•            High corrosion resistance
Tubular Railings Installation
Ball type handrails are perfect for scenarios in which specialist railing is not required such as DDA compliant handrails and in circumstances where there are moving equipment or machinery present.
This means tubular handrail systems would be perfect in a factory, where there is a large amount of moving machinery. Therefore, in order to protect workers, high-performance safety barriers need to be placed on stairways, walkways and platforms.
FAQ'S For the Tubular Handrail Systems
What are the benefits of having a tubular handrail?
Our tubular (or 'ball type') handrails are much easier to install than traditional steel tube rails. The modular system we use requires no welding or heat-work, offering an easy, flexible and cost-effective alternative to threaded steel tubes.
What materials are handrails typically made of?
All our handrails are made from durable galvanised steel, which is highly resistant to corrosion.
How many handrails are required on stairs?
The amount of rails your system needs will depend on the measurements of the space. Contact our expert team today to discuss your requirements and receive a free quote.
Do you manufacture your own ball type handrails?
Yes. CT Safety Barriers is a leading manufacturer and supplier of safety handrails in the UK. We have a purpose-built manufacturing facility located on the motorway network in Yorkshire, and we supply tubular handrails all across the UK and Europe.
How do I install a tubular handrail?
Having your handrail installed by an expert is the best way to ensure it is done correctly and safely. Our fully trained engineers carry out installation work through the whole of the UK and have years of experience in installing handrails on all sorts of locations. Please get in touch to discuss your requirements.
Are your ball type handrails sold secure?
Yes, all our handrails are sold secure.
Which application are tubular handrails most suitable for?
Our ball type handrails are suitable for almost all scenarios. We recommend installing these handrails on all stairways, walkways and platforms in factories, industrial sites and anywhere there may be moving machinery.
Order your Tubular Barriers Today!
Here at CT Safety Barriers, we strive for the best possible performance and quality in all tubular handrails we produce in our UK based purpose-built, manufacturing facility. We are an ISO 9001 and OHSAS 18001 certified company that understands in safety, there is no room for error.
For further information on our handrails call us now or complete an online enquiry form.