What are Armco Steel Barrier Beams?
Armco barrier systems are formed of two parts: a galvanised steel beam and a fixing post. The steel beam is the main protection factor of an Armco barrier, flattening on impact to both absorb and cushion the blow of a crashing vehicle.
CT Safety Barriers offer straight and curved steel beams in a variety of lengths to create bespoke Armco barriers that are fitted to each individual space, making them perfectly suited to securing car parks, factories, warehouses and more.
Made in our UK manufacturing facilities using the best galvanised steel, our Armco steel beams are protected against all weather conditions and certified to BS 4872. We can also supply steel beams with a powder finish in a range of colours, for an Armco barrier that's more visible to drivers and pedestrians.
How does an Armco steel beam work?
Our Armco steel beams are made of two sheets of corrugated galvanised steel that are bent into a 'W' shape, with a protective rim at the top and bottom. This design allows the barrier to absorb and redistribute the energy of an impact, reducing the risk of injury or death.
The steel beam's corrugated shape increases the Armco barrier's strength and rigidity, allowing it to withstand more impact before deforming. If a heavy vehicle collides with the barrier, the steel beam will flatten in a controlled manner, distributing the energy of the impact along the barrier's length.
We also supply curved Armco steel beams, a great choice for car parks as they can direct traffic as well as providing protection for both people and property.
Armco Steel Beam Features
Made of high-quality galvanised steel, certified to BS EN1461.
Available in a polyester powder-coated finish in a range of colours. A brightly coloured steel beam can make your Armco barrier more visible. You could even match your steel beam to your business brand colours.
Bespoke products, tailor-made to meet your requirements
Pre-stamped steel beams for easy construction and simple replacement.
Crafted in our very own UK manufacturing facilities.
85-year lifetime guarantee.
Benefits of using Armco safety barriers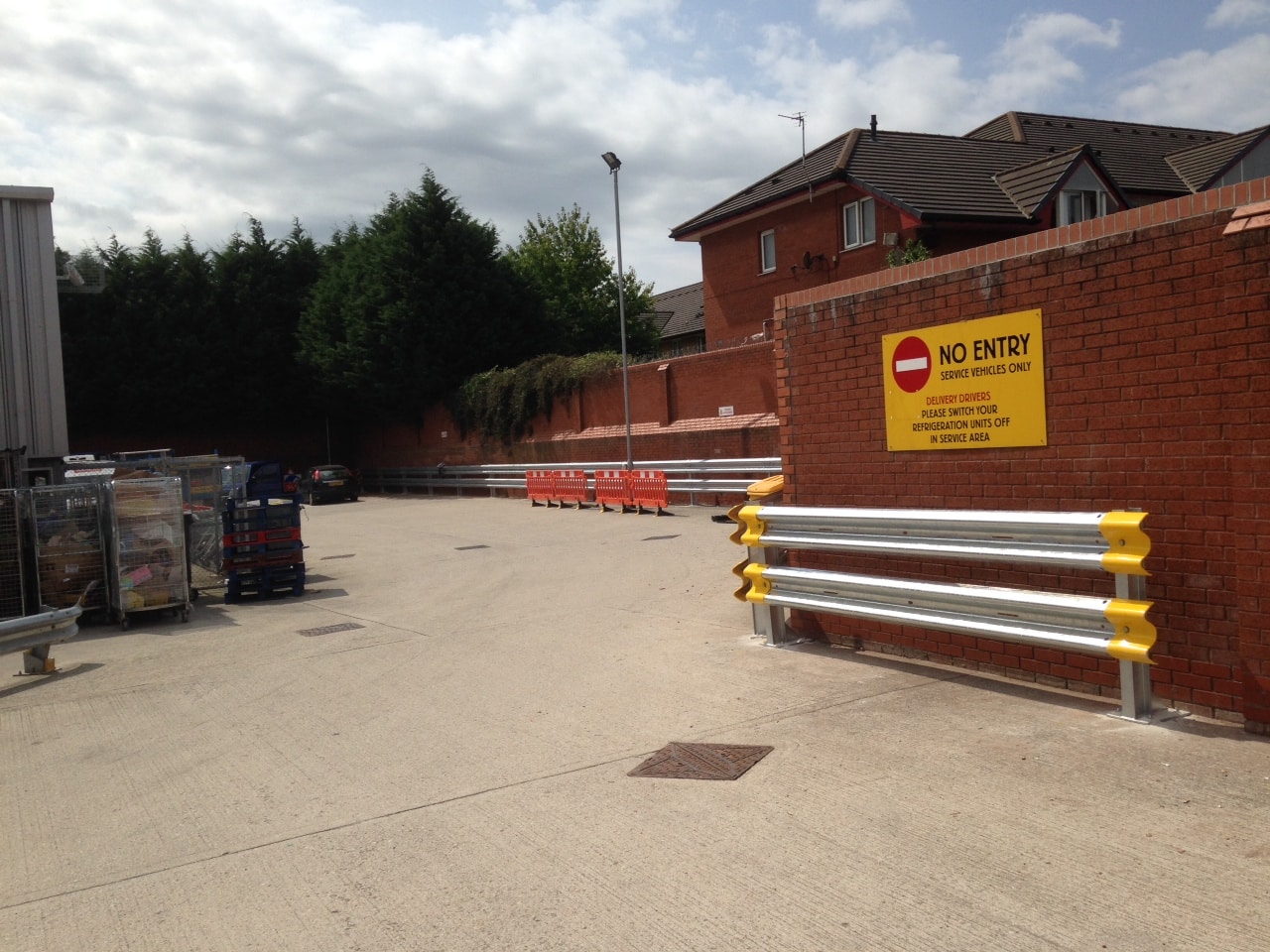 Armco barriers provide protection for pedestrians and buildings by minimising the impact of a vehicle collision. The corrugated steel beams and Armco posts are made from durable galvanised steel, and require minimal upkeep.
The steel beam's unique shape is designed to crumple on impact, absorbing the full force of the collision and reducing the risk of property damage, injury or death.
By placing Armco barriers in strategic positions, your employees, customers and buildings will be protected from collisions, accidents and ram-raid attacks. CT Safety Barriers can assist you in deciding where the safety barriers are most needed, and we can even arrange easy installation for you.
FAQs about Armco Beams
Do you manufacture your own Armco barrier steel beams?
Yes, we do. We're one of the UK's leading manufacturers and suppliers of Armco barrier beams. Our manufacturing facility is based in Yorkshire, and we supply Armco safety barriers across the UK and Europe.
Do you also sell Armco barrier posts and ends?
Yes. Once you've chosen your Armco steel beams, browse our catalogue of Armco Posts and Armco Accessories – including fishtail ends and corner pieces – to finish crafting your perfect safety barrier.
What finish should I choose for my steel beam?
Galvanised steel is the standard finish for Armco barrier beams, but we can also provide steel beams with a powder-coated finish in a range of colours.
Choosing a bright colour can make your Armco barrier more visible and therefore more effective in preventing collisions. You could also choose a powder coating if you want your Armco safety barriers to blend into their surrounding or match your business' brand colours.
Both finishes are durable and cost-effective, protecting your steel barriers from corrosion and ensuring they last a lifetime.
Can you install my Armco beams?
Yes. Our expert engineers can install your Armco barriers for you. They have experience in carrying out installations throughout the UK, across industries and in all kinds of locations. Contact us today to receive a fast and free quote for your Armco safety barrier installation.
What type of Armco barrier beams do you sell?
We sell 3 types of Armco beams. These are:
Why choose CT Safety Barriers for your Armco Safety Barriers?
CT Safety Barriers have been designing, manufacturing and installing Armco safety barriers in the UK for more than ten years. Our expert welders and certified high-quality steel combine to make Armco barriers that protect people and property.
We're an ISO 9001 and OHSAS 18001 certified company, which means that we understand there is no room for error when it comes to safety.
By using our own manufacturing facilities we can provide Armco safety barriers at affordable prices – with the added bonus of a double-quick turnaround time.
We can even install your Armco barrier for you. After all, who better to fit your safety barrier than the people who made it?
Call us today on (01977) 666 818 for a free quote or fill out our contact form and we'll get back to you as quickly as we can.
We manufacture, supply, and install a whole host of Armco Products. Find the right one for your safety protection needs.