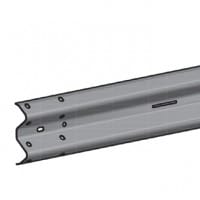 Armco Beam – 3500mm x 3mm
About Armco Beams
Our high-quality Armco barrier beam is made from galvanised steel to protect against all weather conditions and still provide you with durable protection.
It's important to ensure your workplace is protected adequately in the form of crash barriers to prevent damage to property, stock and vehicles, and minimise the risk of serious injury.
We're an industry leading company in the UK who manufactures, supplies, and installs Armco beams. We specialise in off-road barrier installations, this includes areas such as car parks, warehouses, factories, public buildings and more.
Call our team today to discuss your Armco beam requirements and to receive a free quote based on your barrier and installation needs. Alternatively, you can visit our Armco calculator to submit your information and we can get back to you with a quote that way.
Part number(s): AR001
Divide your total length requirement by 3.2m
Add 8 x AR052 Lap Bolts per Beam connecting beam to beam
For non-standard Beam lengths please contact the office for further information
Specification: