Our range of telescopic security posts (or retractable bollards) are a proven deterrent against vehicle theft, ram attack and are ideal for restricted access control. Used by major motor dealers for forecourt protection, retractable telescopic bollards are a reliable and popular choice.
From commercial roller shutter protection to driveway bollards to protect your car, the latest push-button lock technology provides a cost-effective, yet easy to use, solution to your requirements.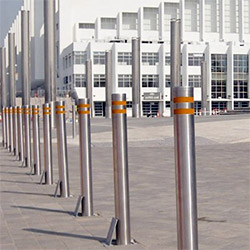 We offer a variety of finishes including galvanised and powder coated, polymer and stainless steel, all are available in varying dimensions. Our telescopic security posts are Sold Secure approved to ensure only the highest of quality. Why not contact us today for more information or browse our full range of security bollards?
Retractable Bollard Key Benefits
Quick and Easy Installation
Versatile: There are a variety of finishes available, including galvanised, powder coated, polymer and stainless steel.
Sold Secure Approved: Ensuring the highest of quality.
Heavy Duty: Even though they retract, these telescopic bollards are made from tough material and can withstand punishment. 
Suitable for range of environments: From private driveways, to public paths, car parks and entrances.
Latest Push button lock technology: Making things easy for when you need them or don't!
Cost-effective: Our retractable safety bollards come at competitive prices.
Telescopic Bollards Examples
There are many reasons why retractable bollards might be needed on a property. They are the perfect deterrent for vehicle theft, protect against ram attacks and can restrict access at a push of a button.
An example of a commercial use of these retractable bollards would be a motor dealer group. The motor dealer group not only wants to deter vehicle theft, but they also want to protect their vehicles from damage. They need a security solution which can be active during out of office hours but deactivated when their dealership is open.  Telescopic bollards are the ideal solution in this case!
For a private residence, our telescopic security posts also make great driveway bollards and car park bollards. They are the perfect solution for protecting high-value cars from the risk of crime. The easy installation and simple push button lock technology makes for a cost-effective domestic, security deterrent from vehicle theft.
Check out our other types of bollards here.
FAQ's About Telescopic Bollards
When are telescopic bollards required?
Telescopic bollards aren't a legal requirement, but they are a fantastic deterrent for theft and ram attacks and can provide controllable access to private parking and other restricted areas.
How far apart should telescopic bollards be?
The UK government suggests that retractable bollards should be spaced at a maximum distance of 1.2 metres. When you're considering where to place your bollards, you should also keep the pedestrian flow and wheelchair access in mind.
What are the benefits of using telescopic bollards?
The main benefit of a telescopic bollard is that is can be retracted into the ground, providing conditional access to areas you may want to keep off-limits to unauthorised vehicles.
Do you manufacture your own telescopic bollards?
Yes. We are one of the top manufacturers and suppliers of telescopic bollards in the UK. Our purpose-built manufacturing facility is based in Yorkshire and we supply products all over the UK and Europe.
Do you install the retractable bollards?
Yes. Our fully trained engineers carry out installation works throughout the whole of the UK and can install your telescopic bollards for you.
How much does it cost to install telescopic bollards?
The installation price of your telescopic bollards will depend on the size, quantity and finish you choose. Contact us today to discuss your needs and receive a free quote.
What finish should I choose for bollards?
If your installation site is located within 7 miles of the coast, you should choose stainless steel finish for your telescopic bollards, as it's the only material that won't be affected by the salty air. If your site is further than 7 miles from the coast, however, then the choice of finish is yours. Galvanised steel offers a low maintenance solution as it doesn't require any cleaning or upkeep, but you could also choose a brightly coloured powder coated finish.
If your site is located over 7 miles from the coast, then the choice of material is down to you. Galvanised steel offers a low maintenance solution as it doesn't require any cleaning or upkeep.
How Do Retractable Bollards Work?
Retractable telescopic security bollards must be dug into the substrate as the body slides completely into the ground receiver when not in use. Therefore, in order to keep your retractable bollards in the best possible condition over a long period of time, prior planning and installation by a trained engineer is crucial.
Once your retractable bollard is installed, you should introduce a maintenance schedule to keep the product in the best possible condition. Over time, dust and debris can accumulate and will need proper cleaning in order to keep the bollard in working order. The telescopic bollard's moving parts will also need to be removed and lubricated periodically.
The bollards themselves are manually lifted out of the ground when in use. When they are not required, they can simply be lowered back into the ground. When they are in the ground, they are safe to passing Vehicles and Pedestrians as there are no protruding parts.
Due to the nature of these retractable barriers, drainage is very important to ensure a long lifespan. If the barrier receiver fills with water, it can increase the wear on the bollard itself and the installation. Therefore, a prior consultation with an engineer will highlight the drainage process is crucial. 
Next Steps…
Here at CT Safety Barriers, we strive for the best possible performance and quality in all retractable bollards we produce in our UK based, purpose built, manufacturing facility. We are an ISO 9001 and OHSAS 18001 certified company that understands in safety, there is no room for error.
For further information on our retractable telescopic bollards call us now on 01977 666 818 or complete an online enquiry form.