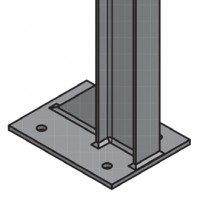 Bolt down RSJ post – 1100mm & 127x76mm surface mount
About The 1100mm & 127x76mm RSJ Bolt Down Barrier Post
The RSJ (Rolled Steel Joist) bolt down barrier post is the ideal barrier system when looking for a strong, ridged structure to hold your Armco barrier in place. Made from high-quality galvanised steel and manufactured here in the UK, our RSJ posts are a great choice for barrier protection.
The bolt down surface mount makes this product incredibly simple to install, while still maintaining the same robust fundamentals as the RSJ cast in post. We manufacture and supply our RSJ bolt down posts in three additional sizes – 760mm, 610mm, and 560mm.
If you're looking for help with installation, a free quote or to discuss your Armco barrier and post requirements, be sure to call our team today and we'll help you with all your needs. Alternatively, visit our Armco calculator page to submit your requirements and request a call back.
Part number(s): AR009
Material Calculator:
Divide total length of system required by 1.6m or 3.2m
1 x AR050 Post Bolt per post hole to bolt Beam to Post, quantity will double for double height and double sided
Specification:
Dim 'A' 1100mm
Weight 23.41kg