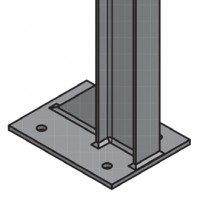 Bolt down RSJ post – 560mm & 127x76mm surface mount
About The 560mm & 127x76mm Bolt Down RSJ Barrier Post
Bolt down RSJ posts provide you with a sturdy Armco barrier post that's both incredibly easy to install and a cost-effective way of having a high-quality barrier post to ensure the best possible protection.
Here at CT Safety Barriers, we're proud to be one of the few companies in the UK to manufacture, supply, and install barrier posts. With a variety of sizes available at 1100mm, 760mm, and 610mm.
Get in touch with our team today to discuss your barrier protection post needs, to generate a free quote and to go over your installation options. We also have a calculator page for you to submit your requirements which we can process and generate a quote for you with.
Part number(s): AR004
Material Calculator:
Divide total length of system required by 1.6m or 3.2m
1 x AR050 Post Bolt per post hole to bolt Beam to Post, quantity will double for double height and double sided
Specification:
Dim 'A' 560mm
Weight 16.32kg