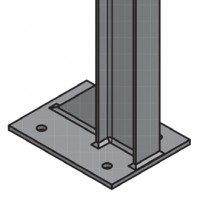 Bolt down RSJ post – 760mm & 127x76mm surface mount
About The 760mm & 127x76mm Bolt Down RSJ Posts
Simple to install and accompanied by excellent load-bearing capabilities, our bolt down RSJ posts are a very popular choice for our customers who need indoor and outdoor barrier protection. Made in the UK from high-quality galvanised steel, we pride ourselves on manufacturing, supplying, and installing the best barrier posts available.
A great fit for all indoor protection needs such as inside warehouses and factories. They can also be installed inside car parks to ensure protection in high traffic areas. We also supply our bolt down RSJ post in three additional sizes – 1100mm, 610mm, and 560mm.
If you're in need of barrier posts, be sure to call our team of experts today who are on hand and ready to help you find the right fit. We can also provide you with a quote and discuss installation requirements too. Alternatively, our calculator can be used to input your requirements and submit them to us in no time at all.
Part number(s): AR006
Material Calculator:
Divide total length of system required by 1.6m or 3.2m
1 x AR050 Post Bolt per post hole to bolt Beam to Post, quantity will double for double height and double sided
Specification:
Dim 'A' 760mm
Weight 18.77kg