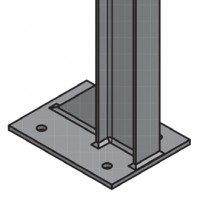 Bolt down RSJ post – 610mm & 127x76mm surface mount
About The Bolt Down 610mm & 127x76mm RSJ Posts
RSJ bolt down posts are some of our most popular products – and it's clear to see why. Their versatile installation options and robust structure make them one of the best options when looking for Armco barrier protection posts. What's more, we provide RSJ barrier posts in three additional sizes – 1100mm, 760mm, and 560mm.
We manufacture all our products in-house and can provide you with a custom installation based on your wants and needs. Having the bolt down surface mount to ensure they're firmly in place, makes it the easy choice when needing a quick and easy post installation for your Armco barrier.
Our team are available to answer your questions, discuss installations and provide you with a free quote, just give us a call today! Alternatively, our Armco calculator allows you to input your requirements and submit your request to our team for us to get back to you.
Part number(s): AR005
Material Calculator:
Divide total length of system required by 1.6m or 3.2m
1 x AR050 Post Bolt per post hole to bolt Beam to Post, quantity will double for double height and double sided
Specification:
Dim 'A' 610mm
Weight 16.73kg