Pedestrian safety barriers provide critical protection for people in busy car parks, worksites and warehouses. These sturdy steel barrier systems help control the risk of vehicle collisions, and direct foot traffic away from high-risk areas.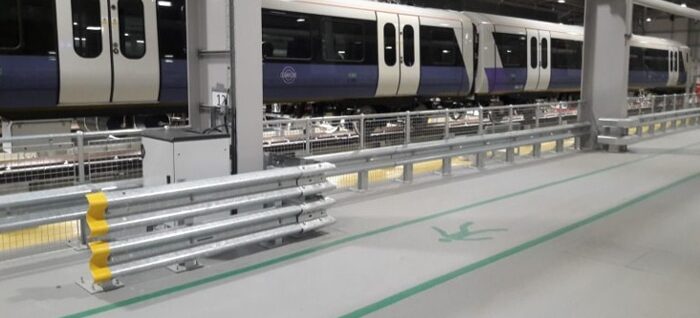 CT Safety Barriers understands the crucial role pedestrian barriers play in protecting people and preventing damage to machinery and equipment. As a leading supplier of safety solutions, we offer a full catalogue of Armco barrier systems designed to secure the safety of your workers, your property, and the general public.

Contact Us Today For A Pedestrian Barrier Quote
What are pedestrian safety barriers?
Pedestrian safety barriers are essential structures that help protect people from moving vehicles. These barriers are typically made of durable materials like galvanised steel and are strategically placed both inside and outside of buildings where cars and pedestrians might meet.
The distinct W shape of an Armco barrier is designed to crumple upon impact and bring any colliding vehicle to a controlled stop, preventing accidents and minimising the risk of injuries to pedestrians.
Where to install pedestrian safety barriers
Protecting employees and visitors from workplace injuries should always be a top priority for business owners – which makes pedestrian safety barriers essential in many industries. Accidents happen but, as an employer, it's critical to ensure you've carried out the required health and safety checks and installed the right safety equipment to protect your workers.
Our pedestrian safety barriers provide advanced protection for anyone on your premises, while also reducing the risk of damage to valuable equipment in high-risk areas.
Don't compromise on safeguarding lives – contact CT Safety Barriers today.
Car parks
Pedestrian safety barriers are an absolute must for car parks and loading bays. These steel barriers create safe pathways for pedestrians, ensuring they stay on designated routes and protecting them from potential traffic collisions. They're particularly beneficial for disabled individuals, offering a clear and accessible way for them to navigate their way without risk of injury safely.
Warehouses
Warehouses are busy places, and pedestrian barriers help steer traffic and people to ensure they don't cross paths. They also assist in controlling the safety of employees working on multiple levels. With their versatility and cost-effectiveness, steel pedestrian barriers are the ideal way to keep your warehouse safe.
Construction sites
Steel pedestrian safety barriers are essential on construction sites to create a safe zone for workers and the public. They help keep non-authorised people away from hazardous areas and provide a physical barrier to protect them from construction activities.
Event venues
Event venues – such as stadiums, concert halls, and outdoor arenas – often use steel pedestrian safety barriers to guide and manage the flow of foot traffic. These barriers help maintain orderly queues, control crowd movement, and protect event attendees from potential ram attacks.
FAQs About Pedestrian Barriers
Q – Do you manufacture your own Armco pedestrian safety barriers?
A – Yes, we are one of the leading manufacturers and suppliers of Armco barriers in the UK, serving customers across Europe. Our manufacturing plant is in Yorkshire, UK
Q – What finish should I choose for my pedestrian safety barriers?
A – Galvanised steel is the best choice for outdoor pedestrian barriers as this fortified steel is both durable and weather-proof. However, we also supply barriers with a powder-coated finish in a range of colours. Bright yellow is great for visibility, but you could also choose to have your pedestrian barriers finished in your brand colours, to match your business premises.
Q – Can you install my pedestrian barriers?
A – Yes. We have an experienced team of installation engineers who can install your bespoke pedestrian barriers. We have worked on installations in a wide variety of locations and industries so speak to us today about your barrier installation needs.
Why choose CT Safety Barriers for your pedestrian barriers?
CT Safety Barriers have over ten years of experience manufacturing and installing pedestrian safety barriers across UK and Europe. We're an ISO 9001 and OHSAS 18001 certified company with an unwavering commitment to safety – we strive to deliver the very best barrier solutions at the most affordable prices.
Our high-quality pedestrian safety barriers are tailored to your exact needs and crafted in our very own manufacturing facility in Yorkshire. We use high-quality steel – certified to BS 4872 and sourced from leading suppliers – to guarantee the highest level of protection.
Give us a call on 01977 666 818 or complete our online contact form to receive a free quote.