Loading bays are an indispensable part of factories, warehouses, storage facilities, and many other industries. However, they also pose significant safety risks due to the presence of heavy machinery, people, and large cargo. Even a small mistake can cause serious injuries and financial losses.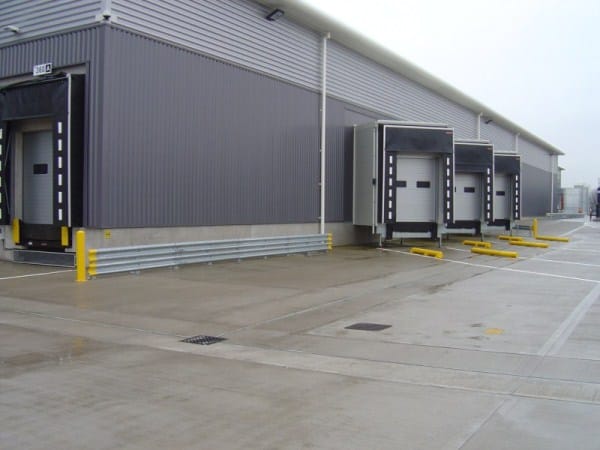 Safety barriers play a crucial role in reducing the risks of loading bays. They outline secure zones, prevent unauthorised access, and can protect workers and infrastructure from the impact of vehicle collisions.
Purposefully engineered, Armco barriers effectively absorb the force of vehicle impact, minimising harm to both people and property. Their reassuring presence makes loading bays safer.

Contact Us Today For A Loading Bay Barrier Quote
Why do you need safety barriers in loading bays?
Create safe zones for pedestrians. Our Armco barriers create visible boundaries, ensuring employee safety and instilling confidence.
Minimise collision damage. Steel Armco barriers are specifically designed to absorb the impact of a vehicle collision, helping to protect pedestrians from injury – or worse.
Improve visibility and flow. Safety barriers can help direct traffic flow and signpost entrances, exits and other crucial areas within a loading bay.
Protect your premises. Steel barriers can help discourage trespassing by making it harder for unauthorised people to access restricted loading bay areas.
Benefits of using Armco barriers in loading bays
Armco safety barriers are a great way to enhance loading bay safety. These solid steel barriers are durable, long-lasting and specifically designed to shield people and property from potential safety hazards.
Here are some of the benefits of using Armco barriers in loading bays:
Robust protection. Armco barriers provide robust shielding against collisions, minimising damage to vehicles and infrastructure while safeguarding personnel.
Efficient energy absorption. Designed to absorb impact energy, the W-shaped Armco barriers dissipate collision forces, reducing the risk of injuries and property damage.
Clear visibility. Armco barriers help maintain clear lines of sight within loading bays, promoting safer navigation for both vehicles and pedestrians.
Flexibility and adaptability. These barriers can be tailored to specific loading bay layouts, accommodating diverse configurations and operational needs.
Durability and longevity. Constructed from the highest quality galvanised steel, Armco barriers offer lasting performance even in demanding environments, ensuring prolonged safety benefits.
Minimal maintenance. Armco barriers require minimal upkeep, resulting in reduced operational disruptions.
Cost-efficiency. The prevention of accidents and associated costs makes Armco barriers a prudent investment, offering long-term financial savings for businesses.
FAQs
Q – Do you manufacture loading bay barriers?
A – Yes. We have our own manufacturing plant in Yorkshire where we craft all our steel barriers. We're one of the UK's top suppliers of Armco barriers, delivering our products to customers all across Europe.
Q – What finish should I choose for my loading bay safety barriers
A – We supply Armco barriers in traditional galvanised steel, or a brightly coloured powder-coated finish.
Galvanised steel is highly durable and weather-proof, making it the best choice for outdoor safety barriers. If you're looking for indoor loading bay barriers, however, a bright yellow powder-finish can help improve your barrier's visibility.
Both choices are long-lasting and cost-effective, require minimal maintenance, and protect your barriers from corrosion.
Q – Can you install my loading bay barriers?
A – Yes. CT Safety Barriers can provide installation services. Our engineers are highly experienced in fitting barriers for all types of industries and loading bay layouts. Get in touch today to discuss your Armco barrier installation.
Why choose CT Safety Barriers for your loading bay barriers?
CT Safety Barriers have more than ten years of experience in designing, manufacturing, and installing loading bay barriers. We maintain strong relationships with Europe's leading steel suppliers, which means we can provide our customers with the highest quality Armco barriers at the best possible prices.
Our company has been certified ISO 9001 and OHSAS 18001, highlighting our commitment to safety. We only use top-grade steel certified to BS EN 1461 standard, and our welders are ture experts – certified to BS 4872.
Contact us today for a free quote by calling 01977 666 818. You can also fill in our online contact form and one of our team will be in touch shortly to discuss your loading bay barrier needs.