Safety barriers for buildings and storage units provide physical protection for workers and help enhance security. These barriers are designed to restrict unauthorised access, prevent accidental falls or vehicle collisions, and safeguard valuable assets and property. They create a clear boundary, indicating safe areas and preventing entry into restricted zones.
Steel barriers can also help manage traffic flow and guide people, ensuring a safe environment on building sites and in storage facilities. By acting as a visual and physical deterrent, our custom Armco barriers contribute to the overall safety and protection of your people and property.

Contact Us Today For A Building Barrier Quote
How steel barrier systems protect your workers
Barrier systems play a crucial role in safeguarding the well-being of your workers. Whether it's a construction site, storage unit, manufacturing facility or warehouse, our bespoke Armco building barriers provide a visible and physical separation between workers and potential dangers on your premises.
They can help protect against workplace injuries and property damage by:
Preventing unauthorised personnel from entering restricted zones.
Ensuring that only authorised individuals with proper training and equipment can access hazardous areas.
Reminding workers and visitors of potential hazards.
Promoting increased awareness and caution among workers.
Improving visibility to reduce vehicle/pedestrian collisions.
Directing traffic and pedestrian flow to reduce confusion.
Where to install building safety barriers?
Keeping your workers safe is essential in any workplace, but especially on building sites, storage units, warehouses or industrial plants. These places often have a lot of traffic and increased risks compared to a more regular office. That's why it's crucial to take the right precautions so your workers and any visitors are properly protected.
Steel safety barriers can help create a secure environment that effectively manages traffic flow and prevents unauthorised access to hazardous areas. By taking proactive steps to reduce risks, you'll help foster a culture of safety in your workplace.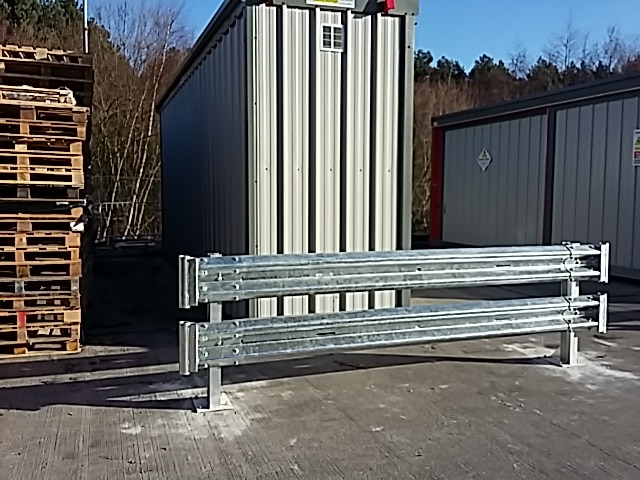 Building sites
Building site barriers help establish a secure area for both workers and the public. These barriers are vital in keeping unauthorised individuals out of dangerous zones and act as a physical shield, safeguarding pedestrians from construction activities.
Storage units
Having steel barriers on your storage unit premises helps make potentially dangerous areas clearly visible to staff and visitors as they move around. This reduces the risk of accidents and any potential liability for your company.
Warehouses
Warehouses can be hectic, but building barriers can control the flow of people and vehicles to avoid accidents and collisions. Steel barriers are also crucial for ensuring the safety of employees working on different levels. They're practical, affordable, and perfect for maintaining warehouse safety.
FAQs About Building Barriers
Q – Do you manufacture your own Armco building barriers?
A – Yes, we have our own manufacturing facility in Yorkshire. CT Safety Barriers is one of the UK's leading suppliers of Armco barriers for building sites and storage units.
Q – What finish should I choose for my building site barriers?
A – We recommend a galvanised steel finish for outdoor barriers, due to its weather resistance. However, a colourful powder coat finish can help improve the visibility of your safety barrier and make it more effective in preventing accidents and collisions. Both finishes are durable, cost-effective, and resistant to corrosion.
Q – Can you install my building barriers?
A – Yes, we offer installation services. Our expert team have experience installing building barriers in many different types of location and industries. Get in touch today to receive an installation quote for your safety barrier.
Why choose CT Safety Barriers for your building site barriers?
CT Safety Barriers have over ten years of experience in designing, manufacturing, and installing safety barriers. We use our own manufacturing facilities in Yorkshire and maintain strong partnerships with leading steel suppliers, so we can pass the cost savings on to our customers.
Our expert welders are trained to the highest level, and we use BS 4872-certified steel to ensure our Armco barriers provide the highest level of protection for your workers. As an ISO 9001 and OHSAS 18001 certified company, we will never compromise on your safety.
Call us on 01977 666 818 or complete our online contact form to receive a free quote on your building barriers.