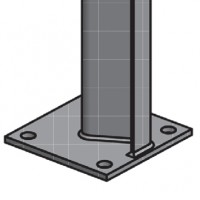 Bolt down Z post – 760mm & 110x49mm Surface Mount
About 760mm & 110x49mm Bolt Down Z Posts
The bolt down version of the Z post is a great option when looking to install a post directly into concrete to support your Armco barrier. The sturdy galvanised steel surface mount provides an easy installation without the need to dig holes in the ground to support the post.
An ideal barrier when looking for protection posts inside a warehouse, factory or other workplaces that have high levels of traffic. These can help protect against injuries, and damage to vehicles, buildings or stock. Our bolt down Z post is also available in two other sizes – 610mm and 560mm.
If you're in need of bolt down Z posts for your place of work, call us today to discuss installation options and arrange a free quote. Alternatively, our Armco Calculator makes it easy for you to submit your needs to us and get us to give you a call back.
Part number(s): AR024
Material Calculator:
Divide total length of system required by 1.6m or 3.2m
1 x AR050 Post Bolt per post hole to bolt Beam to Post, quantity will double for double height and double sided
Specification:
Dim 'A' 760mm
Weight 9.88kg