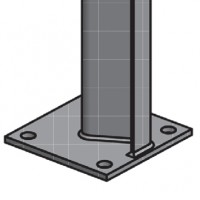 Bolt down Z post – 610mm & 110x49mm Surface Mount
About The Bolt Down 610mm & 110x49mm Z post
Z section posts provide you with great value for money. Made from highly durable galvanised steel, these posts will ensure your Armco barriers are firmly in place. They provide the best possible protection in a cost-effective way.
A great solution to protect against lower-level edges, the bolt down Z post will ensure anything below 610mm is properly protected, making it an ideal choice for inside warehouses and factories. If you need alternate sizes, we also supply this particular barrier in 760mm and 560mm.
To discuss your barrier post needs, call our team of experts today who can help you arrange an installation date if needed and provide you with a quote for your bolt down Z posts. We also have a calculator for you to enter your post requirements and submit a message to our team alongside it so we can contact you back at a more convenient time.
Part number(s): AR023
Material Calculator:
Divide total length of system required by 1.6m or 3.2m
1 x AR050 Post Bolt per post hole to bolt Beam to Post, quantity will double for double height and double sided
Specification:
Dim 'A' 610mm
Weight 8.65kg