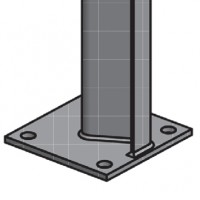 Bolt down Z post – 560mm & 110x49mm Surface Mount
About The 560mm & 110x49mm Bolt Down Z Post
Ensuring barrier protection across a workplace to help prevent against all possible risks is essential, no matter how low down the trouble may be. Our 560mm Bolt down Z posts do just that. Smaller in height but just as durable as other products, these posts are an ideal solution when looking for a more compact barrier post.
Made from galvanised steel, these barrier posts will have no problem supporting your Armco barrier in place while utilising its surface mount for a quick and easy installation. At competitive pricing across the range, we also supply and install this barrier post in two larger sizes at 610mm high and 760mm high.
Call us today to discuss your barrier post needs, including a free quote and to discuss installation options if required. Additionally, you can use our Armco calculator to select your requirements and submit the request for our team to receive and contact you with a response.
Part number(s): AR022
Material Calculator:
Divide total length of system required by 1.6m or 3.2m
1 x AR050 Post Bolt per post hole to bolt Beam to Post, quantity will double for double height and double sided
Specification:
Dim 'A' 560mm
Weight 7.80kg