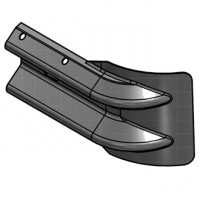 About Fishtail Terminal Ends
A popular choice of terminal end for Armco crash barriers due to its ease of installation and aesthetically pleasing design, the Fishtail end is a great choice for a terminal end solution.
Made from high-quality galvanised steel means this sturdy addition to your Armco barrier will not corrode or rust in harsh conditions. It's also easy to install. The Fishtail end cap ensures the end of the barrier sweeps away from moving vehicles, minimising the risk of collisions on corners, entrances and exits. We're one of the leading UK manufacturers of Fishtail terminal ends, and also supply and install them where needed.
Call our team of experts today to discuss your barrier end cap needs, including pricing and installation. We supply a Pedestrian Terminal End for locations without a high volume of traffic. Additionally, you can use our Armco calculator to submit your barrier end requests to our team and we can get back to you with a generated quote based on your request.
Part number(s): AR028
A strong and visible terminal fixed to corrugated beam and mainly used in vehicle areas
Material Calculator:
4 x AR052 Lap Bolt per Fishtail End
Specification: