Bolt down bollards: everything you need to know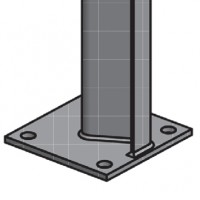 Bolt down bollards are a versatile safety solution that help protect people and property from out-of-control vehicles. Made from high-quality steel, these sturdy bollards are specifically designed to enhance security in a wide range of settings – from car parks to warehouses, factories and more.
Their simple installation method means they can be installed quickly and effectively, while a durable galvanised steel finish provides long lasting protection from rain, snow and ice.
We've created this comprehensive guide to introduce you to the benefits of bolt down bollards, including their key features, ideal placement locations, and how to install them correctly.
What are bolt down bollards?
Bolt down bollards are robust metal posts that are securely fastened to a pre-existing hard, concrete surface. The installation process involves drilling holes into the surface and then attaching the bollards using steel plates and anchor bolts.
Static bolt down bollards are designed to be highly visible, serving as a visual deterrent as well as a physical obstacle, and are effective in areas where other bollard types may be impractical – for instance in locations with a high water table or underground cables.
Learn more about the types of bollards.
What are bolt down bollards made of?
Bolt down bollards are often made from robust materials like galvanised steel, designed to withstand the elements and provide long-lasting durability.
Classic stainless steel static bollards are also popular, but the hot dip galvanised finish offers additional protection against corrosion, UV rays, and extreme temperatures – ensuring each security bollard lasts a lifetime.
You will also find bolt down bollards made from mild steel, carbinox, or even durable rubber. This flexible material is often used for bolt down bollards in high-traffic pedestrian areas, such as the front of schools or city high streets.
Why choose bolt down bollards?
Easy installation and maintenance
Bolt down bollards are designed for straightforward installation onto existing concrete surfaces. This removes the need for extensive groundwork and saves on both time and money.
Versatile security solution
Bolt down bollards are highly versatile and can be installed in a wide range of locations, including car parks, pedestrian walkways, factories, warehouses, and commercial premises.
Bolt down bollards send a clear message to drivers and potential intruders: blocking access, directing traffic, and helping prevent accidental or intentional collisions.
Where to use bolt down bollards
Determining when and where to use bolt down bollards depends on various factors.
To ensure the long life and effectiveness of your bolt down bollards, it's crucial to install them on a solid concrete surface. Concrete provides the necessary strength and stability to withstand the heavy impact of a crashing vehicle.
However, if the chosen location does not have a thick concrete foundation – for instance, a grass surface or tarmac road – we recommend installing your steel bollards with the dig-in or cast-in method instead. This means the bollards will be directly cemented into softer ground, providing more stability.
Here are some common scenarios where bolt down bollards would be useful:
Bolt down bollards create a physical barrier that safeguards vehicles and pedestrians from accidental collisions – helping prevent injury and property damage. They also help prevent vehicle access to restricted areas.
Installing bolt down bollards along pedestrian walkways provides a safety measure to protect people from out-of-control vehicles. They establish a clear boundary and help maintain a secure environment.
Building entrances and exits
Bolt down bollards can be strategically placed near building entrances and exits to protect against ramming attacks. By creating a controlled entry point, they enhance the security of sensitive areas and help mitigate potential threats.
Warehouse and industrial sites
Bolt down bollards play a crucial role in safeguarding warehouses and industrial sites from accidental collisions caused by moving vehicles. They help minimise the risk of personnel injuries and costly damage to structures, equipment, and inventory.
Remember, the suitability of bolt down bollards depends on the specific requirements of each location. Our experts at CT Safety Barriers can help you determine the best placement for your bolt down bollards. Call 01977 666 818 to speak to a member of the team today.
Installing a bolt down bollard
Bolt down bollards must be installed correctly to ensure they're effective and secure.
Start by verifying that your hard, concrete surface is thick enough to accommodate the base plate screws.
Place the bollard over the desired installation spot and use chalk to create drill-marks for each bolt hole.
Move the bollard to drill the holes, then align the base plate holes with the corresponding holes on the concrete surface.
Securely fasten the bollard by inserting and tightening the anchor bolts through the holes.
Repeat this process for each bolt down bollard you wish to install, ensuring proper spacing and alignment to create a continuous line of protection.
Please get in touch if you have any questions or concerns regarding the installation process.
CT Safety Barriers offers professional installation services for our bolt down bollards. We have a skilled team with decades of experience who can securely install your bollards, providing you with peace of mind and reliable protection.
Contact us about your bolt down bollard installation
FAQs about bolt down bollards
Q1: Are bolt down bollards weather-proof?
A: This depends on the material used. Galvanised steel and stainless steel bolt down bollards are designed to withstand various weather conditions and offer excellent resistance to corrosion.
Q2: Can bolt down bollards be removed?
A: Bolt down bollards can be removed if necessary. The bolted installation method allows for relatively easy removal: simply unfasten the bolts securing the steel bollard to the concrete surface. This versatility can be a great benefit in situations where temporary access is required or when reconfiguring the layout or security plans for an area. However, it's important to note that bolt down bollards are intended for long-term installation.
If you need any advice or guidance on removing your bolt down bollards, we recommend consulting with professionals who can ensure proper handling and reinstallation, if needed.